Willie Odis McKinney
November 24, 1921 – May 8, 2020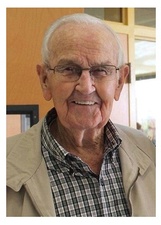 Private entombment funeral services for Willie Odis McKinney, 98, of Cairo, GA, will be held at Tift Memorial Gardens and Mausoleum, Tifton, GA. Dr. Mike Keown and Rev. Keith Parks will officiate. Mr. McKinney passed away at Rose City Health and Rehabilitation Center in Thomasville, GA, on Friday, May 8, 2020.
Mr. McKinney was born on November 24, 1921, in Macon, GA, to the late John Wesley McKinney and Mamie Wadsworth McKinney. He served his country in the United States Navy. He was self-employed as a farmer and was owner of Enigma Feed Company until his retirement. On June 28, 1985, he married Hilda Clements McKinney, who survives. Odis was a former Director of the FFA Alumni Association, former member of the Chamber of Commerce in Nashville, GA and he helped established the Enigma Men's Club. He was a member of the Grady County Help Agency and volunteered to help anyone that needed his help. He was a member of the American Legion Post #122 and a World War II Veteran. Odis was a member of First Baptist Church in Cairo, GA where he was an active member of Fisherman's Sunday School Class and Georgia Baptist Builders. He loved his church and always wanted to help others. He also could be found at D & L Diesel, Inc. in Cairo, GA, helping to clean at the shop or at Stallings Motors helping to deliver cars.
Survivors include: his wife, Hilda Clements McKinney of Cairo, GA; children, Kathy Clements Keown (Mike) of Coolidge, GA, Gwen Clements Lee (Gary) of Cairo, GA, Judy Clements Parks (Keith) of Americus, GA; grandchildren, Michael Keown (Keumele) of Toccoa, GA, Matthew Keown (Christina) of Fayetteville, GA, Keith Lee (Dawn) of Cairo, GA, Amy Lee Starr (Adam) of Cairo, GA, Thomas Lee (Jessica) of Eagle River, AK, Jonathan Parks of New York City, NY, David Parks (Ansleigh) of Americus, GA, Jason Parks (Maggie) of Ames, IA; great-grandchildren, Carrie, Andrew, and Jacob Keown, all of Toccoa, GA, Colt and Andee Keown, both of Fayetteville, GA, Hunter Tuggle of Athens, GA, Colin Lee of Cairo, GA, Bralyn, Skyler, Joe, and Naomi Starr, all of Cairo, GA, Archer Lee of Eagle River, Alaska, Liam and Bennett Parks, both of Americus, GA; sister, Lois Becham of Lizella, GA; and a special nephew, J.C. McKinney of Tifton, GA.
He was preceded in death by: his parents; his first wife, Charlotte McDonald McKinney; sister, Frances McKinney Parks; and brothers, Charlie Fred McKinney and JW McKinney.
Memorials may be made in Mr. McKinney's memory to: Cairo First Baptist Church, P. O. 1538, Cairo, GA 39828; or a church of your choice.

For those who desire, condolences may be offered to the family by
clicking here
.