Virginia Sutton Buchanan
August 2, 1926 – May 15, 2018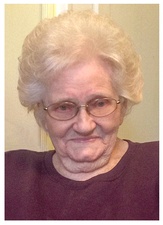 Funeral services for Virginia Lucille Sutton Buchanan, 91, of Cairo, GA, are at 11:00 a.m., Thursday, May 17, 2018, at the Chapel of Clark Funeral Home, Cairo, GA. Pastor Mitch Conner will officiate. Services will conclude at the chapel. Interment will be in the Cairo Cemetery, Cairo, GA. Mrs. Buchanan passed away at the Thomasville Nursing and Rehab Center in Thomasville, GA, on Tuesday, May 15, 2018.
Mrs. Buchanan was born on August 2, 1926, in Cairo, GA, to the late Seaborn Augustus Sutton and Mamie Lucille Williams Sutton. On March 31, 1972, she married Joe Glenn Buchanan, who preceded her in death in September 20, 1982. She was a nursing assistant who worked with Archbold Memorial Hospital in Thomasville and later Grady General Hospital in Cairo until her retirement. She was of the Baptist faith.
Survivors include: her sons, Rodney Tuggle of Cairo, GA, Sutton Asbell (Vickie) of Blakley, GA; grandchildren, Nicole Draper (Austin) of Thomasville, GA, Darren Asbell (Cameron) of Lyons, GA, Haley Tiner (Ret) of Blakley, GA; and great-grandchildren, Lacey Mae Draper of Thomasville, GA, Sutton Tiner, Copper Tiner, both of Blakley, GA. She was preceded in death by her parents and her husband.
The family will receive friends at Clark Funeral Home immediately following the funeral service.