Vicy Raenell Jones
February 19, 1922 – July 10, 2018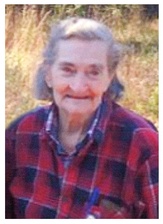 Funeral services for Vicy Raenell Jones, 96, of Cairo, GA, are at 11:00 a.m., Thursday, July 12, 2018, at the Chapel of Clark Funeral Home, Cairo, GA. Rev. Ron McCaskill will officiate. Services will conclude in the chapel. Interment will be in the Cairo Cemetery, Cairo, GA. Miss Jones passed away at Magnolia Place in Cairo, GA, on Tuesday, July 10, 2018.
Active pallbearers will be Gary Jones, Roy Brock, Ferrell Duncan, Jr., Sheriff Harry Young, Jimmy Littrell and Randall Jones.
Miss Jones was born on February 19, 1922, in Cairo, GA, to the late Robert Henry Jones and Pency Jane Stanaland Jones. Raenell devoted her life to the family farm and dairy. In later years, she worked with her brother, Talbot, in support of his appliance repair and service business. She was a member of the First Baptist Church of Cairo.
Survivors include: niece, Dr. Jane Jones Bader and husband, Mr. George Michael Bader of Lexington, SC; great-niece, Karen Bader Burton and husband, James Daly Burton of Clemson, SC; great-great-nieces, Joyce Elizabeth Burton, Marie Catherine Burton, both of Clemson, SC; several cousins including cousin Irma Christ of Rockville, MD.
She was preceded in death by: her mother, Pency S. Jones in 1984; father, Robert Henry Jones in 1954; brothers, Talbot Jones in 2006, Henry Stanaland Jones in 2008; and a sister, Angia Leah Jones in 2010.
Memorials may be made in Miss Jones' memory to: Cairo First Baptist Church Harvest Day Fund, P. O. 1538, Cairo, GA 39828.
The family will receive friends at Clark Funeral Home on immediately following the funeral service.