Vernon Edward Dixon, Sr.
October 2, 1933 – March 4, 2019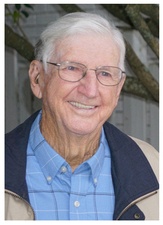 Funeral services for Vernon Edward Dixon, Sr., 85, of Cairo, GA, are at 11:00 a.m., Thursday, March 7, 2019, at Long Branch Baptist Church, Cairo, GA. Rev. Jeff Ezell and Pastor Johnny Moore will officiate. Interment will be in Greenwood Cemetery, Cairo, GA. Mr. Dixon passed away at his home on March 4, 2019.
Active pallbearers will be Hayden Nicholson, Bart Nicholson, Patrick Ouzts, Eddie Dixon, III, Kenny Phelps and Nic Eaton. Honorary pallbearers are the Long Branch Baptist Adult Men Sunday School classes, Maneus Courtney and Elwood Allen.
Mr. Dixon was born on October 2, 1933, in Bainbridge, GA, to the late Lowell Dixon and Lorene Miller Dixon. He graduated from Whigham High School and attended Abraham Baldwin Agricultural College. Mr. Dixon was a Civil Engineer and held a Professional Engineering License. He began his career with the Georgia Department of Transportation then worked with the Florida Department of Transportation for over 33 years. After his retirement, he was a consultant for multiple firms.
On April 8, 1967, he married Glenda Keller Dixon, who survives. They recently celebrated 50 years of marriage. He was the proud father of nine children and was blessed with 17 grandchildren and 13 great-grandchildren. Vernon loved to talk about three things: his family, God and his work. He enjoyed working on anything mechanical and spent many years of his life collecting and restoring tractors.
He was an active member of Long Branch Baptist Church in Cairo. He served the Lord faithfully as a Sunday School teacher for many years and one of his proudest moments was when he was ordained a Deacon on January 22, 2012.
Mr. Dixon is survived by his wife, Glenda Keller Dixon of Cairo, GA; daughter, Debbie Manderfield (Mike) of Tallahassee, FL; son, Vernon Edward "Eddie" Dixon, Jr. (Donna) of Cairo, GA; daughters, Diane Hodnett (Gary) of Whigham, GA, Dawn Smith (Walt) of Thomasville, GA, Angie Strickland (Kevin) of Cairo, GA, Stefanie Maxwell (Donnie) of Tallahassee, FL, and Gail Nicholson (Bart) of Cumming, GA; 17 grandchildren; 13 great-grandchildren; brothers, Jerry Dixon (Lydia) of Whigham, GA, Carlton Dixon (Pam) of Jacksonville, FL; and a sister, Janice Ulmer (Dave) of Whigham, GA.
He was preceded in death by: his parents; and daughters, Donna Lorene Dixon and Sheila Jean Rackley.
Memorials may be made in Mr. Dixon's memory to: Long Branch Baptist Church, P. O. Box 502, Cairo, GA, 39828.
The family will receive friends at Long Branch Baptist Church on Wednesday, March 6, 2019, from 6:00 p.m. until 8:00 p.m.