Troy Savage Rease Hitt
September 17, 1961 – January 2, 2020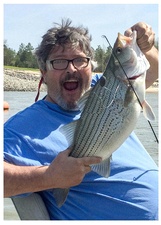 Troy Savage Rease Hitt, 58, of Pavo, GA, passed away at Colquitt Regional Medical Center in Moultrie on Thursday, January 2, 2020. A Celebration of Life will be held at 2:00 p.m. on Saturday, January 11, 2020, at The Farm, 18938 Georgia Hwy 3, Thomasville, GA.
Troy was born on September 17, 1961, in Thomasville, GA, to John William Pierre Hitt II and Wanda Lynette Joye Hitt. He was a 1979 graduate of Thomasville High School. Troy was in mail delivery with Davenport Transportation. He was of the Baptist faith.
Troy never met a stranger and made everyone laugh with his silly antics and jokes. His biggest passion in life was bass fishing, and he spent much of his free time on local lakes and rivers. He had a heart of gold and would give anyone the shirt off his back. He was very talented with his hands: a skilled carpenter, handy man, and artist. Troy was a tribal member of the Southeastern Cherokee Council, Inc., a member of the Grey Wolf Clan, and a guard for the Black Wolf Warrior Society.
Survivors include: his mother, Lynette Hitt; daughters, Alexa Dupriest and Summer Hitt; son, Alex Hitt; grandchildren, Kylie Dupriest and Gunner Dupriest, all of Thomasville, GA; brother, Bill Hitt (Sue) of Calvary, GA; sisters, Mysti Caprice Joye (Mark) and Kim H. Atkinson, both of Thomasville, GA; fiancée, Dawn Freeland of Cairo, GA; and many other family members and friends who loved him very much. He was preceded in death by his father.
In lieu of flowers, charitable donations may be made in Troy's memory to: Southeastern Cherokee Council, Inc., c/o Pamela Sandusky, 2731 Alabaster Road, Tawas City, MI 48763.

For those who desire, condolences may be offered to the family by
clicking here
.