Travis Christopher White
April 8, 1985 – March 29, 2019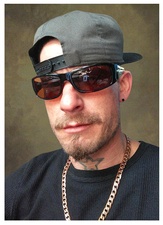 The family will be hosting a memorial service for Travis Christopher White, 33, of Cairo, GA, at 2:00 p.m., Saturday, April 6, 2019, at the Full Gospel Chapel, Cairo, GA. Rev. Greg Hester and Rev. Vic Byrd will officiate. Mr. White passed away at Grady General Hospital in Cairo, GA, on Friday, March 29, 2019.
Mr. White was born on April 8, 1985, in Miami, FL, to David Wayne White and Myling Ortiz Roberts. He was self-employed welder. Travis was also a certified fire-fighter who was trained to run the evac and life flight.
Survivors include: his daughter, Ava Holder of Pleasant Shade, TN; his son, Jasper Munden of Coolidge, GA; and a child to be born soon; his mother, Myling Ortiz Roberts (James) of Cairo, GA; sister, Jessica Lynn Ortiz-Estreda (Jessie) of Tallahassee, FL; brothers, David White (Rachel) of Cairo, GA, Joseph Michael White of Cairo, GA; nieces and nephews, Karoline Griffin, Angel Sergeant, Harper Sergeant, Trinty Rich, Piper Hall, Carmen Zuniga, A. J. Zuniga; grandmothers, Rosita Garcia (Evodio) of Orlando, FL, Ruth White of Crystal Springs, MS; his father, Michael Eugene Miller of Thomasville, GA; and a host of aunts, uncles and extended family.
He was preceded in death by his grandfather, David Christopher White; grandfather, Miguel Angel Ortiz, Jr.
The family will receive friends at Clark Funeral Home on Friday, April 5, 2019, from 6:00 p.m. until 8:00 p.m.