Susan "Edith" Wamble Collins
December 4, 1921 – November 26, 2017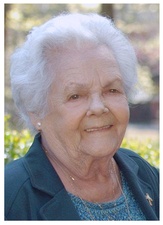 Susan "Edith" Wamble Collins, age 95, passed into heaven on November 26, 2017. Edith was born to the late Grover and Nellie Mae Wamble on December 4, 1921 in Cairo, GA. In addition to her parents she is preceded in death by her husband of 53 years, Roy C. Collins, Sr., and four younger siblings. As a young bride Edith moved to Atlanta with her husband Roy in 1941 from Cairo, GA; and later resided in Stone Mountain for 56 years, where she established many friendships. She worked at Rich's briefly during World War II. She began her career as a dress maker which developed into a passion for creating wedding dreams for many brides.
Edith is survived by: her daughter, Susan M. Collins; son, Roy Jr. and wife, Nancy Collins; grandchildren, Tracy & Kimberly Cumbie, Roy, III & Kelly Collins, and Jeff & Carrie Collins; five great-grandchildren, Callie, Sam, Tyler, Eli and Hyder; and a host of loving nieces and nephews.
She had many talents and enjoyed sharing them with friends, neighbors and loved ones. Edith was a Lifetime member of the GFWC Stone Mountain Woman's Club and active in Stone Mountain First Baptist Church until her health prevented her attendance. She will be remembered affectionately as Mama, Mother, Grandmother Edith and Aunt Edith.
A funeral service will be conducted at 1:00 p.m. on Wednesday, November 29, 2017 at Wages & Sons Funeral Directors Stone Mountain Chapel with the Reverend Dr. Dan Parker officiating. Burial will follow at Melwood Cemetery in Stone Mountain, GA. The family will receive friends at the funeral home on Tuesday, November 28, 2017 from 4:00 p.m. – 7:00 p.m., and on Wednesday from 11:00 a.m. until the service hour.
Wages and Sons Funeral Home and Chapel, Stone Mountain Chapel, 1040 Main Street, Stone Mountain, GA 30083, Phone 770-469-9811, is in charge of arrangements. Online condolences may be sent to the family at www.wagesandsons.com