Shelton E. Donaldson
December 14, 1936 – June 14, 2019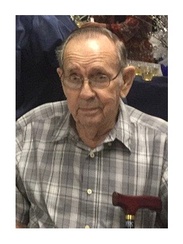 Graveside memorial services for Shelton E. Donaldson, 82, of Cairo, GA, are at 10:00 a.m., Thursday, June 20, 2019, in Forest Lawn Cemetery, Cairo, GA. Rev. Andrew Donaldson will officiate. Mr. Donaldson passed away at Bainbridge Health and Rehab, Bainbridge, GA, on Friday, June 14, 2019.
Mr. Shelton was born on December 14, 1936, in Cairo, GA, to the late Clarence Donaldson and Callie Mae Pyles Donaldson. On January 8, 1961, he married Sue E. Butler Donaldson. He was of the Baptist faith.
Survivors include: his wife, Sue Donaldson of Cairo, GA; son, Kenneth Donaldson (Donna) of Jackson, GA; grandchildren, Chance Donaldson (Kaitlin) of Jackson GA, Caleb Donaldson of Jackson, GA, Bailey Baggett (Ross) of Covington, GA, Cameron Donaldson of Jackson, GA, Jacie Donaldson, of Jackson, GA and Dixi Donaldson of Jackson, GA; brother, Billy Donaldson (Martha) of Bainbridge, GA and a host of nieces and nephews.
He was preceded in death by his parents and a brother, Tommy Donaldson.
Memorials may be made in Mr. Shelton's memory to: Eastside Baptist Church Building Fund, P. O. Box 749, Cairo, GA 39828.
The family will receive friends at the Donaldson home on Wednesday, June 19, 2019, from 4:00 p.m. until 7:00 p.m.

For those who desire, condolences may be offered to the family by
clicking here
.