Ruby Miller Horne
July 11, 1925 – July 3, 2018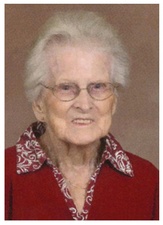 Ruby Miller Horne, 92, of Cairo, GA, passed away at her home, on Tuesday, July 3, 2018. No services are planned at this time. She will be interred in Greenwood Cemetery, Cairo, GA.
Mrs. Horne was born on July 11, 1925, in Cairo, GA, to the late Green W. Miller and Garris Cannon Miller. On February 11, 1945, she married George A. "Bill" Horne, who preceded her in death on March 9, 2012. They were married for 67 years. After many years of dedicated service as a nurse, she retired from Grady General Hospital. She was a faithful member of Eastside Baptist Church.
Survivors include: daughter, Dianne Crutchfield of Stone Mountain, GA; son-in-law, Wray Gallimore of Stone Mountain, GA; and a host of nieces and nephews. She was preceded in death by her parents and her brother, Carson Miller.