Roy Arthur Lee
July 30, 1945 – January 8, 2019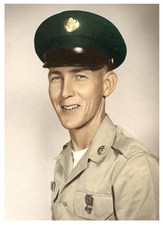 Funeral services for Roy Arthur Lee, 73, of Cairo, GA, are at 11:00 a.m., Saturday, January 12, 2019, at the Chapel of Clark Funeral Home, Cairo, GA. Russell Deese and Ivy Peters will officiate. Interment with Military Honors will be in Hawthorne Cemetery, Cairo, GA. Mr. Lee passed away at Archbold Memorial Hospital in Thomasville, GA, on Tuesday, January 8, 2019.
Active pallbearers will be Carey Lee, Tommy Lee, Greg McNair, Bruce Lee, Austin Sellars and Dax McNair.
Mr. Lee was born on July 30, 1945, in Cairo, GA, to the late William Berry Lee and Willie Harvell Lee. He served his country in the United States Army. On October 12, 1968, he married Vivian Collins Lee, who survives. He was a retired route salesman with Aramark Company.
Survivors include: his wife, Vivian Collins Lee of Cairo, GA; sons, Chris Lee of Cairo, GA, Preston Lee (Ruby) of Cairo, GA; daughter, Maranda Lee of Cairo, GA; grandchildren, Adam Lee (Lettie) of Pelham, GA, Dustin Lee of Pelham, GA, Beau Lee of Norfolk, VA, Rene Mitchell (Michael) of Cairo, GA, David Dobson of Columbia, TN, Xena Galston (Dustin) of Havana, FL, Alexis Dobson of Cairo, GA, Austin Sellars of Cairo, GA; 5 great-grandchildren; sisters, Dorothy McNair (Robert) of Bainbridge, GA, Faye Kelley of Cairo, GA; brothers, Roger Lee (Gail) of Cairo, GA, Ronald Lee (Ann) of Commerce, GA, Alvin Lee (Rhonda) of Cairo, GA, Phillip Lee (Barbara) of Cairo, GA; and a host of nieces and nephews.
He was preceded in death by: his parents; grandsons, Kyle Lee, Roy Thomas Gossett; and a sister, Frances Lee Sadler.
Memorials may be made in Mr. Lee's memory to: the Cystic Fibrosis Foundation. Donate
The family will receive friends at Clark Funeral Home on Friday, January 11, 2019, from 6:00 p.m. until 8:00 p.m.