Norman B. Moore, Jr.
April 8, 1935 – August 2, 2017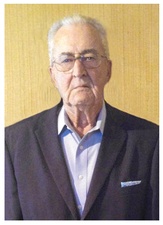 Funeral services for Norman B. Moore, Jr., 82, of Quincy, FL, are at 10:00 a.m., Saturday, August 5, 2017, at the Chapel of Clark Funeral Home, Cairo, GA. Rev. Cephus Phillips will officiate. Interment with Military Honors will be in Piedmont Cemetery, Calvary, GA. Mr. Moore passed away at his home in Quincy, FL, on Wednesday evening, August 2, 2017.
Active pallbearers will be members of the Grady County Military Honor Guard.
Mr. Moore was born on April 8, 1935, in Tallahassee, FL, to the late Norman Moore, Sr. and Lilly Mae Poppell Moore. He retired with over 20 years of service from the United States Air Force. He was married to Michelle D. Moore, who survives. He was a member of Providence Baptist Church in Greensboro, FL.
Survivors include: his wife, Michelle D. Moore of Quincy, FL; sons, Patrick Morgan of Quincy, FL, John William Morgan (Kimberly) of Augusta, GA; daughter, Tiffany Moore Stanaland (Benjamin) of Quincy, FL; grandchildren, Suzanne Morgan of Columbia, SC, Sarah Morgan of Augusta, GA; great-grandchildren, Riley Hunter Morgan, Jonathan Kenneth Morgan, both of Augusta, GA; and sisters, Nora Ruth Hurst of Cairo, GA, Lilly Ann Currin of Whigham, GA.
He was preceded in death by: his parents; granddaughter, Tia Marie Morgan; brothers, Manor Moore, Sr., David Moore; and a sister, Martha Moore.
The family will receive friends at Clark Funeral Home on Friday, August 4, 2017, from 6:00 p.m. until 8:00 p.m.