Martha Cox Loyd
September 30, 1934 – April 3, 2020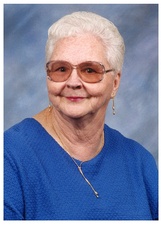 Martha Cox Loyd, 85, of Valdosta, GA, passed away at PruittHealth-Lakehaven in Valdosta, GA, on Friday, April 3, 2020. Interment will be in Mt. Olive Baptist Church Cemetery, Pelham, GA. The family will have a private memorial service at a later time.
Mrs. Loyd was born on September 30, 1934, in Fruitland, GA, to the late James Cox and Pinkie Padgett O'Connor. On July 5, 1952, she married Grady Loyd, who preceded her in death on December 24, 1991. Martha was a devout Christian woman, a mother and a housewife, who loved more than anything, cooking for her family and friends.
Survivors include: daughters, Ann Flowers (Edward) of Argyle, GA, Nancy Miller (Gerald) of Jackson, GA, Mitzie Rainey of St. Marys, GA; grandchildren, Ash W. Miller (Christie) of Acworth, GA, Adam Miller of Rincon, GA, Ann Marie Magana (Lupe) of Waynesboro, GA, Mack Aldridge (Aubrey) of Blythe, GA, Amanda Bailey (Chip) of Lakeland, GA, Shelby Rainey Bachant (Monique) of St. Marys, GA, Trey Rainey of St. Marys, GA; great-grandchildren, Juanita, Melina, Lupita, and Jesus Magana, all of Waynesboro, GA, Marianna, Matthew, and Madelynne Bailey, all of Lakeland, GA, Asher Miller of Acworth, GA; brother, James W. Cox (Patricia) of Statenville, GA; and a number of nieces and nephews.
She was preceded in death by: her parents; her husband; sons, James Grady Loyd, Grady Angelo Loyd; son-in-law, Mike Rainey; and sisters, Minnie Lee Rash, Mattie Lou Stephens.

For those who desire, condolences may be offered to the family by
clicking here
.