Marilyn Kaye Grimsley Helms
September 18, 1947 – May 16, 2022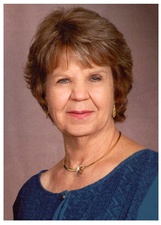 Memorial services for Marilyn Kaye Grimsley Helms, 74, of Cairo, GA, are at 2:00 p.m., Friday, May 20, 2022, at the First United Methodist Church, Cairo, GA.  Rev. Christy Bandy and Rev. Graton Helms will officiate. Kaye passed away peacefully at her home on May 16, 2022. She was born on September 18, 1947 in Donalsonville, Georgia to Mary Lou Williams Grimsley and Roy Lester Grimsley.
Honorary pallbearers will be Burleigh Law Sunday School Class Members.
Kaye was a graduate of Miller County High School and Georgia Southern University, where she studied education. On June 30, 1968, she married Aubrey Dale Helms, her high school sweetheart. Dale and Kaye had known each other since the first grade. They lived in Albany, Georgia and Tallahassee, Florida, before moving to Cairo in 2003.
Kaye had a 34-year career teaching mathematics in Georgia, including 26 years as a beloved math teacher at Cairo High School, from which she retired in May 2008. Due to her love of teaching and passion to help others, she continued to work as a math tutor after retiring. Kaye was an outgoing member of the Cairo community, often found catching up with friends and former students or hosting a game of bridge with friends. She was an active member of Cairo First United Methodist Church, where she taught the Burleigh Law Sunday School class for many years.
Her loved ones will remember her for her loving spirit, thoughtful gestures, caring disposition, boisterous laugh, amazing cooking, and all-enveloping hugs, as well as her fierce love for her family and friends.
Kaye is survived by her husband, Aubrey Dale Helms of Cairo, GA; her sons, Aubrey Dale Helms, Jr. of Oviedo, FL and Jonathan Wayne Helms of DeLand, FL; her daughters-in-law, Krista Colasacco Helms and Annie Richards Helms; and her grandchildren, Allison Helms, Rebecca Helms, Benjamin Helms, Elisabeth Helms, and Gabriel Helms; and a host of nieces, nephews and extended family.
Kaye was preceded in death by her parents, Roy Lester Grimsley and Mary Lou Williams Grimsley, and her brothers, Roy LaDon Grimsley and Phillip Wayne Grimsley, and her grandson, Matthew McKay Helms.
In lieu of flowers, the family suggests donations be made to the Cairo First United Methodist Church, 318 South Broad Street, Cairo, GA 39828.
The family will receive friends immediately following the memorial service in the Fellowship Hall of the church.
For those who desire, condolences may be offered to the family by
clicking here
.