Margaret Stone White
April 11, 1959 – December 29, 2018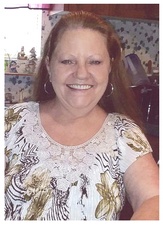 Margaret Loretta Stone White, 59, of Pelham, GA, passed away at the Mitchell County Hospital, Camilla, GA, on Saturday, December 29, 2018. The family will have a memorial service at a later time.
Mrs. White was born on April 11, 1959, in Flint, MI, to the late Lester Stone and Bonnie Jean Burley Stone. On October 16, 1979, she married Marlin Kelly "Bud" White, who preceded her in death on January 13, 2013. She was a good wife and mother. She was of the Baptist faith.
Survivors include: daughters, Cynthia Cowart (Efrain) of Tallahassee, FL, Marlinda Adams (Donnie) of Ochlocknee, GA, Bonnie White (Willie) of Bainbridge, GA; son, Franklin White (Alaina) of Cairo, GA; grandchildren, Katlin Cowart (Cristian), Kody Cowart (Emily), Kolby Cowart (Cassandra), Jacob White, Dawson Quill, D.J. Dickerson, Charity Dickerson, Ian Hines, Franklin White, Dillan White, Realyn White, McKenzie White, Grayson White; great-grandchildren, Stacy Leespeed, III, Heaven Burgess, Nevaeh Burgess; nieces, Venus Stone, Mya Bell (Chad); and great-nieces and great-nephews, Connor Lewis, Aletta Bell.
She was preceded in death by: her parents; her husband; sisters, Janet, Victoria; and brothers, Lester and Dooley.