Lois Harrell Clark
July 5, 1929 – October 5, 2018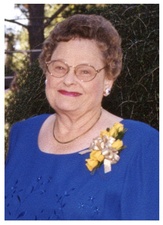 Lois Harrell Clark, 89, joined the church triumphant on Friday, October 5, 2018, at her home in Cairo surrounded by her family. Services will be held at 3:00 p.m. on Monday, October 8 at Cairo Presbyterian Church with Pastor Becky Willis officiating. Private interment will be immediately following in Greenwood Cemetery.
Mrs. Clark was born on July 5, 1929 to John Arthur and Mattie Coleman Harrell, who precede her in death. She graduated from Cairo High School in 1946 and attended Georgia Southwestern College. She graduated from the University Hospital School of Nursing at the Medical College of Georgia in Augusta as a Registered Nurse. She worked at Archbold Hospital in Thomasville and Grady General Hospital in Cairo. She was the first school nurse for the Grady County Schools.
Mrs. Clark married her soulmate, Alfonso Braxton (Buddy) Clark on November 4, 1951 and would have celebrated their 67th anniversary in a few weeks. Together they built a very successful farming operation which in 2012 was named a Georgia Centennial Family Farm. She joined Cairo Presbyterian Church at an early age and was very active in the church serving as moderator of Presbyterian Women and as a circle leader. She and her husband also served as youth leaders. Mrs. Clark enjoyed reading and journaling. She was a member of the John Benning Chapter, Daughters of the American Revolution.
Mrs. Clark is survived by her husband and their four children: Arthur Braxton (Belinda Long) Clark of Leesburg, GA; Nancy Rebecca (Thomas R., Jr.) Coleman of Hartsfield, GA; Sandra Lois Clark of Cairo; Mary Brenda (Don) Chandler of Hull, GA; two grandchildren Amy Rebecca Clark (Ronnie) Blalock of Doerun, GA; and Thomas Clark (Paige Eubanks) Coleman of Memphis, TN; and one great-grandchild, Coen Watson Coleman of Memphis.
In addition to her parents, she is preceded in death by sisters Mary Harrell Fouche; Sara Harrell Champion, Margaret Harrell Gowan, Pauline Harrell Hewlett, Martha John Harrell Hartsfield and Sue Harrell Collins and foster sister Mary Lou Harrell Crawford.
The family wishes to express thanks to the staff of WestCare, especially long-time caregiver Angelia "Isabell" Williams and Hospice of Southwest Georgia, specifically Hospice nurse Roger Pierce.
Memorial gifts can be made to Cairo Presbyterian Church, P. O. Box 207, Cairo, GA 39828.
Visitation will be from 1:30 p.m. until the funeral hour of 3:00 p.m. at the church.