Kenneth Harold "Ken" Lindgren
July 25, 1940 – August 30, 2022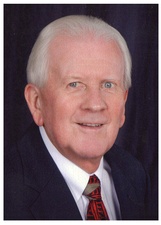 Kenneth Harold "Ken" Lindgren, 82, of Thomasville, GA, passed away at Camellia Gardens of Life Care in Thomasville, GA, on Tuesday, August 30, 2022. The family will have a memorial service at Swedona Lutheran Church in Lynn Center, IL at a later date.
Mr. Lindgren was born on July 25, 1940, in Moline, IL, to the late Karl Harold Lindgren and Lillian Malmberg Lindgren.  Ken was a graduate of Illinois State University.  He was a farmer and livestock breeder in Central Illinois, owner of Lindgren Pork Farms. Ken spent his retirement volunteering at local hospitals, including Saint John's Hospital in Springfield, IL, Kirby Medical Center in Monticello, IL, and Archbold Memorial Hospital in Thomasville, GA.  He lived an active lifestyle, was an avid Illinois sports fan, enjoyed music and spending time with his family.  He was a member of the Cairo United Methodist Church and the Burleigh Law Sunday School Class.
Survivors include: his children, Darin Lindgren of Redondo Beach, CA, Jami Porter (Joe) of Cairo, GA, Jodi Davis (Jeff) of Champaign, IL; grandchildren, Kate Porter, Will Porter, Ellie Davis, Matt Davis, Joe Davis; sister, Maxine Hoerler of Erie, IL; and a host of nieces, nephews and extended family.
He was preceded in death by his parents and his sisters, Jean Kindelsperger Cooper and Virginia Stewart.
Memorials may be made in Mr. Lindgren's memory to: Alzheimer's Association, www.alz.org (please include In Memory of and donor information); or the Cairo First United Methodist Church, 318 S. Broad Street, Cairo GA 39828.
For those who desire, condolences may be offered to the family by
clicking here
.