Katherine Koryga Chamberlin
May 29, 1925 – April 22, 2022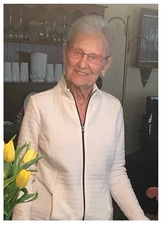 A Memorial Mass for Katherine Koryga "Kay" Chamberlin, 96, of Thomasville, GA, will be at 11:00 a.m., Thursday, May 12, 2022, at St. Augustine Catholic Church, Thomasville, GA.  Father Godred Boachie-Yiadom will officiate. Mrs. Chamberlin passed peacefully at her home on Friday, April 22, 2022.
Katherine was born on May 29, 1925, in Bound Brook, NJ, to the late Stanislaw Koryga and Mary Prytula Koryga. She married Frank J. Chamberlin, III in 1948.  They raised their family and made a good life together in Paramus and Mahwah NJ.  They were happily married for 57 years.  Katherine always said her greatest achievement is her family. "Each of you" she would tell her three children, "was wanted and loved, this is the gift I can give you."
She is survived by her: children, Cynthia Chamberlin of Thomasville, GA, Sandra Mudra (Darrell) of Thomasville, GA, Frank Jacob Chamberlin, IV, of Windsor, NY; cherished grandchildren; great-grandchildren; nieces and nephews; and a brother and sister-in-law.  She was preceded in death by: her parents; her husband; her grandson; and three siblings.
Katherine earned her Registered Nurse degree through the U.S. Cadet Nurse Corp.  She was a caring, compassionate bedside nurse and a skilled surgical nurse. She later became a charge nurse for the hospital nursery.  Once Katherine and Frank started their own family Katherine did private duty nursing and later in life she cared for children in a nursery daycare, where she was beloved by grateful parents.
Katherine and her husband Frank relocated to Cairo, Georgia in 1990 and enjoyed many years building friendships through their volunteer activities. Katherine worked at Eastside Elementary School assisting wherever needed.  She served as a member of the Help Agency; she was an active member of the Cairo Women's Club. Katherine enjoyed the time she volunteered in the bookstore at the Roddenbery Memorial Library, where she would always find the perfect book for each reader.  She was a parishioner of Saint Elizabeth Ann Seton RC church and she joyfully baked a cake each week for the after Mass social hour.  Katherine was a humble soul who once said of her own life "not everyone is a star, some of us are just part of things."  And in that simple phrase, her own star sparkled all the brighter.
Kay had many interests and had a life-long dedication to self-improvement and enrichment.  She created beautiful landscape paintings.   She also enjoyed knitting, crochet and embroidery.  Reading was a beloved pastime as were jigsaw puzzles of all complexities and word search challenges.   She was both an avid walker and a yoga practitioner, faithfully exercising well into her 95th year.  She loved to dance.  When asked how she did it all, Katherine was known to say "if you can't do something the way you used to, find another way."
In 2017, Katherine and her two daughters all relocated to Thomasville, Georgia. They each enjoyed living in their own homes on the very same street and treasured the five years they have had together.
Katherine loved her life of service to her family, her friends and her community.  She greeted each day with enthusiasm and when asked how she was doing, she would so often say … "I'm wonderful.  I could jump over the moon!"
Memorial donations may be made in Katherine Chamberlin's name to: Hospice of Southwest Georgia, archboldfoundation.org.  Click on "Hospice of Southwest Georgia"
For those who desire, condolences may be offered to the family by
clicking here
.