James Dale Hardwick
August 26, 1963 – August 29, 2019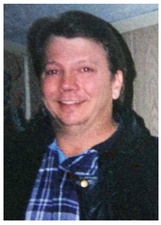 James Dale Hardwick, 56, of Albany, GA, passed away at his home in Albany, GA, on Thursday, August 29, 2019. The family will have a memorial service graveside in Greenwood Cemetery, Cairo, GA, at 11:00 a.m., Friday, September 6, 2019.
Mr. Hardwick was born on August 26, 1963, in Cairo, GA, to the late Luther Hardwick and Fay Gainous Rutland Hardwick. On Dec. 9, 2000, he was united in Holy Matrimony to Kathy Conn Hardwick, who survives. He was an autobody technician.
Survivors include: his wife, Kathy C. Hardwick of Albany, GA; daughters, Sharon E. Rayson (Ken) of Louisville, KY, Janelle Weatherford of Thomasville, GA; sons, Jeffrey Weatherford (Erin) of Johnson City, TN, Justin Weatherford of Sebastian, FL; grandchildren, Georgia Rayson, Paris Rayson, Jaylee Kennedy, Jeffrey Weatherford, Jr., Ryan Jay Weatherford, Jewell Weatherford, Eriabella Weatherford; brother, Wayne Rutland (Cathy) of Wisconsin; sisters, Charlotte Daughtry of Cairo, GA, Sue Hornsby of Ochlocknee, GA; and a host of nieces and nephews.
He was preceded in death by: his parents; and his brothers, Ronnie Rutland, Larry Rutland.

For those who desire, condolences may be offered to the family by
clicking here
.