Hilda Childs Faulkner
August 10, 1936 – March 10, 2018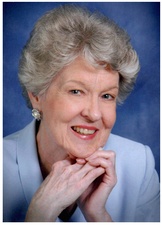 Hilda Childs Faulkner, 81, of Thomasville, GA, passed away on Saturday, March 10, 2018, surrounded by her loving family. Funeral services will be held at 11:00 a.m. on Thursday, March 15, 2018, at the First Baptist Church of Columbus, GA, with Reverend Dr. Jimmy Elder officiating. The family will visit with friends one hour prior to the service at the church. Ms. Faulkner will be laid to rest in Cairo, GA, at Midway Baptist Church Cemetery at 4:00 p.m.
Born on August 10, 1936, to Rev. George Floyd Childs, Sr. and Jessie May Sasser Childs in Pelham, Georgia, Ms. Faulkner grew to be an active member in the Cairo High School's 4-H and Marching Band, before moving on to Augusta Medical College where she would earn her nursing degree. She worked as a Registered Nurse at St. Francis Hospital, retiring in 2004. Her father, Rev. George Floyd Childs, Sr. and Uncle, Elder Earl Childs, preached the Gospel of our Lord for a combined 82 years in the Grady county area. While she strove to make a difference in her community, Ms. Faulkner carried on her love for beautiful music by playing alongside the Columbus Symphony Orchestra in the early 1960's and continued by becoming very active in Columbus' First Baptist Church Choir, where she was a longtime member.
She was preceded in death by: her parents; two brothers, George Floyd Childs, Jr. and William Stanley Childs; sister-in-law, LaTrelle Childs; nephew, Stanley Carl Childs; and a niece, Patsy Childs Moye.
Ms. Faulkner is survived by: three children, Sam L. Faulkner, Jr. (Charlene) of Thomasville, GA, Fred L. Faulkner (Debi) of Fayetteville, GA, Jessica Dyess (Jeff) of Birmingham, AL; sister-in-law, Vivian Childs of Cummings, GA, formerly of Cairo, GA; and a nephew, Buddy Childs (Mary) of Cummings, GA. She also leaves behind many grandchildren: Carson Faulkner, Colton Faulkner, Parker Faulkner, Austin Faulkner, Conner Faulkner, Layton Dyess, Anna Dyess, Libby Dyess and Jack Dyess.
Funeral services will be by Stiffler-Hamby Mortuary, 4071 Macon Road, Columbus, GA 31907. Phone Number is 706-563-2372. Condolences may be offered to the family at www.shcolumbus.com