Faye Moore Strickland
December 31, 1927 – March 3, 2019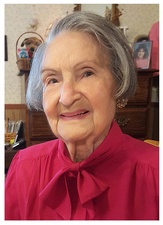 A memorial service for Faye Moore Strickland, 91, of Cairo, GA will be held Saturday, March 16, 2019, at 1:00 p.m. at Eastside Baptist Church, Cairo, GA. Rev. Andrew Donaldson, Rev. Carl Harrell and Pastor Johnny H. Moore will officiate. Faye, beloved mother, grandmother, great-grandmother, sister and aunt entered into rest on Sunday, March 3, 2019, at her home in Cairo, GA.
Faye Moore Strickland was born on December 31, 1927 to the late James Walter Moore and Kate Miller Moore and grew up in Cairo, GA. She graduated from Cairo High School in 1945 and married Glenn Strickland of Whigham, GA, on November 15, 1946. They moved to Miami, FL in 1949 and later to Boca Raton where they lived until 1975 when Faye returned to Cairo. Faye was a member of Eastside Baptist Church where she loved to sing in the choir, taught decades of Sunday School and retired as the church custodian after 15 years. Faye also retired from the school system where she worked as a teaching assistant in behaviorally challenged special education classes.
Faye is survived by: daughter, Glenna Baker (Bill); sons, Jimmy and Larry Strickland; son-in-law, Don Frederick; granddaughters, Jennifer Bowen (Mark) and Stacey Frederick; great-grandson, Brandon Bowen; father of her children, friend and caregiver, Glenn Strickland; sister, Sara McKown (Buzz); sister-in-law, Greta Moore; and a host of nieces and nephews.
Faye was preceded in death by: her daughter, Beth Strickland Frederick; her brother, Herman Moore; and her parents.
Faye loved the Lord with all heart and soul and shared her faith in Jesus with all she touched. She loved her family, and community. She was always smiling, full of joy, and will be greatly missed.
In lieu of flowers, memorials may be made in Mrs. Strickland's memory to: Eastside Baptist Church, P. O. Box 749, Cairo, GA 39828.
McNeill Funeral Home, 109 Shaw Street, Martinez, GA, is in charge of arrangements. (Phone 706.864.9122)