Eunice Irene Darley Chason
May 31, 1923 – February 10, 2018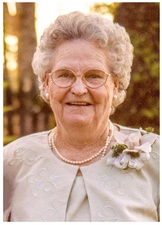 Eunice Irene Darley Chason, 94, of Whigham, GA, passed away at Memorial Manor, Bainbridge Memorial Hospital, Bainbridge, GA on Saturday, February 10, 2018.
Funeral services will be conducted at 11:00 a.m., Tuesday, February 13, 2018, at Providence Baptist Church, Whigham, GA. Reverend Wayne McDonald will officiate. Services will conclude at the church.
Active pallbearers will be her grandsons. Interment will be in Woodlawn Cemetery, Whigham, GA.
Mrs. Chason was born May 31, 1923 in Mitchell County, GA, the daughter of James Wesley and Mary Ethel Pollock Darley. She was the ninth of twelve children born and last to expire from this union. On June 4, 1939, she married Horace Chason, the love of her life who preceded her in death after 54 years of marriage. Following their marriage, they worked with civil service to assist World War II efforts and received training and diplomas from The Anderson Organization (Army Air Forces Eastern Technical Training Command), Nashville TN. Working alongside her husband, they were deployed to various airbases throughout the U.S. repairing airplanes in what was referred to as the "Rossie Riveter." After the war, they returned home and bought their farm in Grady County. She was a devoted and true farmer's wife working beside her husband no matter the time of day or task at hand. A loving and caring mother and doting "granny" and "great-granny", her greatest joy was nurturing and caring for her family and anyone in need. She cooked feasts in a matter of minutes and no one left the family home without something baked from her kitchen and always had a stash of sweet treats for her grandchildren. She loved tending her garden, especially loved roses and kept her yard everblooming. She was a devoted Christian, loved reading and studying the Bible and was an active member of Providence Baptist Church, Whigham, GA since 1948 until her failing health.
Survivors include her children: sons & daughters-in-law, David Chason (Gail) of Cairo, Kenneth Chason (Sharon), and Charles Chason (Kim) of Whigham, GA; daughters & sons-in-law, Annette Andrews (Henry), Faye Hopkins (Duane), and Kaye Gainey (Ray) all of Cairo, GA; her nine grandchildren, Lisa Little (Rob) Canton, GA; Doug Chason (Logan) Tifton, GA; Dana Chason, Quitman, GA; Regina Molisee (William), Angie Lawson (John), Amy Hagan (William), Amanda Gainous (Dustin), Ashley Derrick (Zack), and Caroline Chason, all of Cairo, GA; her thirteen great-grandchildren: Alison, Matthew and Michelle Little, Reid and Kye Gainous, Luke and Lane Molisee, Braelyn and Everley Scott, Ashlyn Hagan, Evan Griffin, Beau Chason, and Aiden Lawson; and a sister-in-law, Earlene Darley of Ozark, AL.
She was preceded in death by: her parents; her husband. Horace Chason; daughter, Charlotte Irene Chason; three brothers, Louie Darley, Walter Darley and James Wesley Darley, Jr.; and eight sisters, Eva D. Clenny, Minnie Lee D. Pessenhofer, Ruby D. Smith, Inez D. Thornton, Naomi Darley, Mary D. Marden, Kathryn D. Sharp and Virginia D. Singleton.
Memorials may be made in Mrs. Chason's memory to: Providence Baptist Church, 975 Providence Road, Whigham, GA 39897.
The family will receive friends immediately following the funeral service at the church.