Ellen W. Harrell
February 22, 1925 – November 17, 2018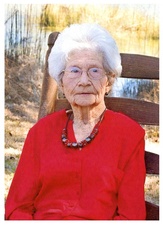 Funeral services for Ellen Willis Harrell, 93, of Cairo, GA, are at 11:00 a.m., Monday, November 19, 2018, at the Chapel of Clark Funeral Home, Cairo, GA. Pastor Becky Willis will officiate. Interment will be in Greenwood Cemetery, Cairo, GA. Mrs. Harrell passed away after a lengthy illness at her home in Cairo, GA, on Saturday, November 17, 2018.
Active pallbearers will be her grandsons.
Mrs. Harrell was born on February 22, 1925, in Cairo, GA, to the late Hardy B. Willis and Cora Dekle Willis. Ellen was the youngest of nine siblings. On December 29, 1941, she married Carlton Steven Harrell, who preceded her in death on March 16, 1998. They were married for 56 years. She was a homemaker and a member of Long Branch Baptist Church.
Survivors include: her children, Charles L. Harrell (Patsy) of Crawfordville, FL, Linwood S. Harrell (Ellie) of Coolidge, GA, Kathie H. Maxwell of Cairo, GA, Jeffrey K. Harrell of Cairo, GA, Timmie C. Harrell (Latrelle) of Cairo, GA; grandchildren, Mary Ellen Carr (Stanley), Charles L. Harrell, II (Connie), Michael D. Maxwell, Angel H. Ponder (Sam), Steven Chad Harrell (Leisure), Timothy C. Harrell (Tracey), Brandon S. Harrell, Anthony Carr; great-grandchildren, Carlie M. Maxwell, Logan D. Maxwell, Ansley S. Ponder, Collin G. Ponder, Ashley J. Miller, Charles C. Harrell, T. J. Harrell, Parker R. Harrell, Harper G. Harrell, Trevor G. Valentine, Nathan A. Plant, Jarah Harrell; and a host of nieces and nephews.
She was preceded in death by: her parents; husband; granddaughters, Melissa E. Harrell, Casey H. Plant; son-in-law, Carl D. Maxwell; brothers, Lester Willis, Jim Willis, T. J. Willis; and sisters, Gertrude W. Sapp, Marie W. Sellars, Madie W. Medley, Ocie W. Russ, Dollie W. Frady.
Memorials may be made in Mrs. Harrell's memory to: Kindred Hospice, 432 E. Shotwell St., Bainbridge, GA, 39819. The family wishes to express their love and gratitude to Kindred Hospice for their devoted care of Mrs. Harrell.