Donald "Billy" Bill McGuire
June 20, 1940 – November 15, 2021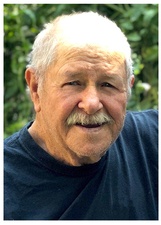 Donald "Billy" Bill McGuire, 81, passed away peacefully in the arms of his son and with his beloved dog, Riley on his lap, on November 15, 2021.  Graveside memorial services are at 11:00 a.m., Saturday, November 27, 2021, in Greenwood Cemetery, GA.  Pastors Emory and Brigitte Corley will officiate.
He was born June 20, 1940, to the late Jake and Thelma McGuire in Cairo, GA.  He was preceded in death by his parents, his wife Mervin, brothers Frank McGuire, Henry McGuire, M.C. McGuire, Charles McGuire, Albert McGuire, and sister Glenda Busby.
Billy is survived by his son Gregory McGuire and wife, Laura of Cornelius, NC, Shane Allen and Regina Baker; grandchildren Jacob and wife Jackie (children Jaelyn and Keaton), Jarrett, Ryder, and Cole; two sisters, Dorothy Gay of Americus, GA and Doris Bowen and husband Wayne of Cairo, GA; sister-in-law Rose McGuire of Millville, MI along with many loving nieces and nephews.
Billy had a passion for farming and made his living doing what he loved. He loved to garden and had a well-producing garden every year. He had lived with his son and family for the last 7 years in North Carolina. He found great joy in being by Greg's side, keeping Laura's flowers alive, and being with his two youngest grandsons every day. He also had a love for cooking especially his homegrown collards that the neighbors would line up for. He was loved dearly by so many and will be missed immensely.
In lieu of flowers, memorial contributions may be made to Novant Health Hospice, 324 N. McDowell St. Suite 200, Charlotte, NC 28204.
For those who desire, condolences may be offered to the family by
clicking here
.