David Clyde Pumphrey
August 16, 1948 – September 23, 2017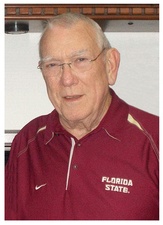 Funeral services for David Clyde Pumphrey, 69, of Cairo, GA, are at 2:00 p.m., Tuesday, September 26, 2017, at Providence Baptist Church, Whigham, GA. Rev. Avery Hutto, Rev. Dallas Ellis and Rev. Chad Cooper will officiate. Services will conclude at the church. Interment will be in Greenwood Cemetery, Cairo, GA. Mr. Pumphrey passed away at Tallahassee Memorial Hospital in Tallahassee, FL, on Saturday, September 23, 2017.
Active pallbearers will be his grandsons and nephews. Honorary pallbearers will be members of the Nehemiah, Joshua and Caleb Sunday School Classes of Providence Baptist Church.
Mr. Pumphrey was born on August 16, 1948, in Marianna, FL, to the late Hershel Monroe Pumphrey and Lucretia Alsobrook Pumphrey. He served his country in the United States Navy. On November 22, 1972, he married Anita Cliett Pumphrey, who survives. He retired as gage technician/purchaser with Koyo Bearings USA. He was a member of Providence Baptist Church in Whigham, GA. David was a devoted and loving husband, father and grandfather. He was an avid FSU fan and he loved to bake cakes, cookies and other sweets.
Survivors include: his wife of 44 years, Anita Cliett Pumphrey of Cairo, GA; daughters, Dione Maxwell (Brett) of Bethlehem, GA, Lori Hutto (Avery) of Cleveland, GA; grandchildren, Thomas Hutto, Sierra Maxwell, Michaela Hutto, Andrew Maxwell, Miley Hutto; brothers, Donald Pumphrey of Pensacola, FL, Doyle Pumphrey (Lynette) of Lynchburg, VA; sisters, Verneal Runnells of Ozark, AL, Norma Ellis of Grand Ridge, FL, Mae Bishop of Cottondale, FL, Berta Keene (John) of Mauldin, SC; sister-in-law, Peggy Pumphrey Parker (Johnnie) of Bethlehem, GA; and a host of nieces and nephews.
He was preceded in death by: his parents; and brothers, Willard Alsobrook and Paul Pumphrey.
Memorials may be made in Mr. Pumphrey's memory to: Providence Baptist Church, 975 Providence Road, Whigham, GA 39897.
The family will receive friends at Providence Baptist Church immediately following the funeral service.