Carolyn Collins Joyner
March 12, 1936 – February 11, 2018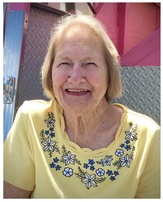 Funeral services for Carolyn Collins Joyner, 81, of Tallahassee, FL, are at 2:00 p.m., Thursday, February 15, 2018, at Bible Believers Fellowship Church, Tallahassee, FL. Pastor Dennis Young will officiate. Services will conclude at the church. Private interment will be in Tired Creek United Methodist Church Cemetery, Cairo, GA. Mrs. Joyner passed away at Tallahassee Memorial Hospital in Tallahassee, FL, on Sunday, February 11, 2018.
Active pallbearers will be Tyler Gandy, Andy Joyner, Sam Collins, Scott Etheridge, Leonard Haney, Sr. and Tony Collins.
Mrs. Joyner was born on March 12, 1936, in Cairo, GA, to the late Edwin Samuel Collins and Ruth Mills Collins. On September 1, 1955, she married William Eugene Joyner, who preceded her in death on December 4, 2003. She was a bookkeeper with SRJ Enterprises, Inc. She was a devoted member of Bible Believers Fellowship Church in Tallahassee. Carolyn (known by many as Mema) was a kind, sweet soul devoted to her children, grandchildren, church and friends.
Survivors include: daughter, Sharon Faye Condatore (Kevin) of Tallahassee, FL; sons, Daniel Eugene Joyner (Elaine) of Crawfordville, FL, Steven Royce Joyner of Tallahassee, FL, Kenneth Allen Joyner of Tallahassee, FL; grandson, Tyler Gandy of Tallahassee, FL; and nieces and nephews, Andy Joyner, Robert Joyner, Jeffrey Joyner, all of Cairo, GA, Sam Collins of Cairo, GA, Tony Collins of Blountstown, FL, Tammy Collins of Crawfordville, FL.
She was preceded in death by: her parents; her husband; granddaughter, Ariel Gandy; and a brother, James Herschel Collins.
In lieu of flowers, memorials may be made in Mrs. Joyner's memory to: Lighthouse Children's Home, 7771 Mahan Drive, Tallahassee, FL. 32309.
The family will receive friends at Clark Funeral Home on Wednesday, February 14, 2018, from 6:00 p.m. until 8:00 p.m.