Barbara Sharp Koon
July 20, 1935 – December 1, 2018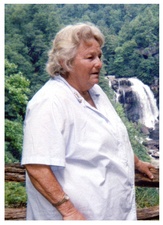 Barbara Jean Sharp Koon, 83, of Cairo, GA, passed away at her home in Cairo, GA, on Saturday, December 1, 2018. Interment will be at a later date in St. Cloud Cemetery in Florida.
Mrs. Koon was born on July 20, 1935, in Kissimmee, FL, to the late Raymond Sharp and Katherine Opaline Thompson Sharp. She was married to Oliver Oakland Koon, who preceded her in death on December 18, 1997. She was a homemaker and of the Christian faith.
Rev. 21:4, He will wipe away every tear from their eyes and death shall be no more, neither shall there be mourning, nor crying, nor pain anymore, for the former things have passed away.
Survivors include: sons, Gary Koon (Marilyn) of Cairo, GA, Robert Koon (Margaret) of St. Cloud, FL, Jerry Koon of St. Cloud, FL, David Koon of Cairo, GA; daughters, Sherry Lavelle (Henry) of Cairo, GA, Suzy Williams of Liberty, MS; 11 grandchildren, 16 great-grandchildren; and a sister, Shirley Kendrick of Jacksonville, FL.
She was preceded in death by: her parents; sons, Jacky Koon, Ricky Koon; grandchildren, Crystal Lavelle, Kara Lavelle, Barbie Koon, Amy Koon; and a brother, Charles Sharp.