Andrew Ruell Laney
September 25, 1936 – February 9, 2019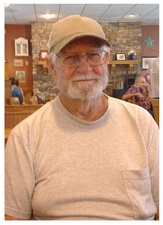 Memorial services for Andrew Ruell Laney, 82, of Cairo, GA, are at 10:00 a.m., Saturday, February 16, 2019, at the Chapel of Clark Funeral Home, Cairo, GA. Pastor Travis Harrison will officiate. Interment will be in Greenwood Cemetery, Cairo, GA. Mr. Laney passed away at his home in Cairo, GA, on Saturday, February 9, 2019.
Mr. Laney was born on September 25, 1936, in Cedar Springs, GA, to the late Andrew Laney and Dottie Chandler Laney. He was retired after working with the United States Postal Service as a contract mail carrier.
Survivors include: his son, Randall Laney of Cairo, GA; step-daughter, Phyllis Gainous (Lanny) of Cairo, GA, Faye Pettigrew of Palatka, FL; grandchildren, Karen Logsdon (Andy) of Ocklawaha, FL, Jeanne Singletary of Ocklawaha, FL, Matthew Singletary of Dawson, GA, Jackie Houston (Ronald) of Cairo, GA, Eric Roberson of Cairo, GA; 6 great-grandchildren; brother, Tommy Laney of Palatka, GA; and a sister, Frances Watford of Columbia, AL.
He was preceded in death by: his parents; brother, Dan Laney; and sisters, Mary Crawford, Christine Singletary.
The family will receive friends at Clark Funeral Home immediately following the memorial service.