Alma A. Elkins
October 8, 1924 – October 9, 2017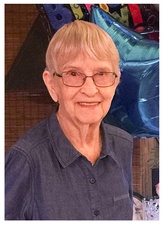 Funeral services for Alma A. Elkins, 93, of Cairo, GA, are at 4:00 p.m., Thursday, October 12, 2017, at the Chapel of Clark Funeral Home, Cairo, GA. Pastor Becky Willis will officiate. Services will conclude at the funeral home. Interment will be in Greenwood Cemetery, Cairo, GA. Mrs. Elkins passed away at Archbold Memorial Hospital in Thomasville, GA, on Monday, October 9, 2017.
Mrs. Elkins was born on October 8, 1924, in Cairo, GA, to the late David Walker Andrews and Margie Frances Singletary Andrews. She was married to G. T. Harrell and Hubert Elkins. Both husbands preceded her in death. She was owner of Harrell's Grocery, and a member of Midway Baptist Church.
Survivors include: daughter, Iris Houston (Ray) of Cairo, GA; grandchildren, Hal Houston (Connie) Leesburg, GA, Lynne Googe (Ray) of Hazelhurst, GA; and great-grandchildren, Logan Houston (Crystal) of Albany, GA, Alex Googe of Marietta, GA.
She was preceded in death by: her parents; husbands; and six brothers and sisters.
Memorials may be made in Mrs. Elkins' memory to: Woodland First United Methodist Church, C/O Alma Elkins Memorial Fund, 132 Prince Road, Cairo, GA, 39827; Thomas County Humane Society, P. O. Box 1306, Thomasville, GA, 31799.
The family will receive friends at Clark Funeral Home on Thursday, October 12, 2017, immediately following the service.